Some people know our camper coast camper trip starting from Venice, travelling all the Mediterranean coast of Italy, France, Spain until Cadiz city. Coming at the end of the travel after 3 months, we stayed in 27 different cities or towns so far.
Making the travel in budget we rarely stayed in camping areas. We were parked in a parking or on a street in the center and we didn't have any problem. Even when we come first time to Barcelona by camper, there was huge free parking at the beach and we are happy to park there one week. Knowing Barcelona's fame about robbery and hearing the robbery stories didn't ease us tough.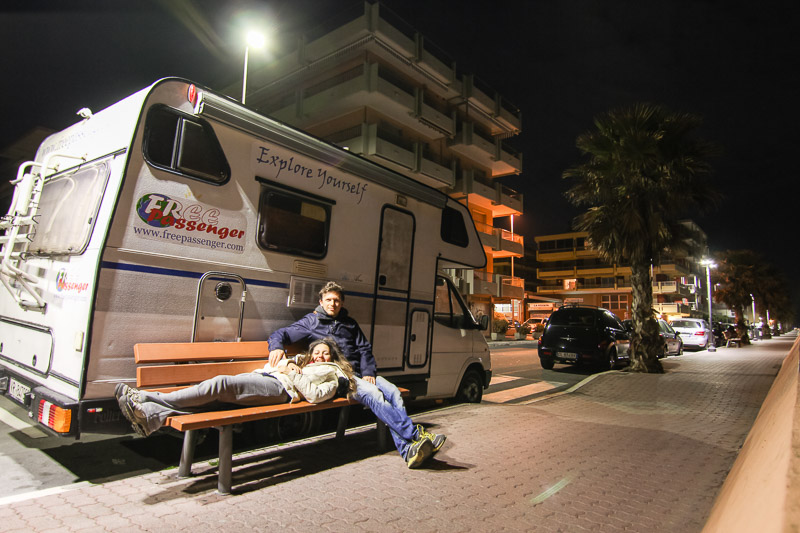 Coming back to Barcelona second time (after 2 weeks) things were changed. There was no more that huge free parking for campers because there was put a bar to block entrance of campers. Fine.. It was not easy but after searching a bit we found another free parking quite close to the center and parked there. It was going to last 2 days parking there safely. When we arrived camper in the third night, we found door open and mess everywhere. We were prudent taking our important and valuable stuff with us in backpack but still.. We have been robbed our luggage with clothes inside. We didn't call the police because we knew that for such a small things police doesn't do anything. Doesn't need to bother them.
For the records, the law of Catalunya (The region of Barcelona) says that until 300 Euros, robbery doesn't count as a crime. Thus cops do nothing. So there are pickpockets and thieves everywhere.

Trying to keep our pecker up we started to look a safer place. We called some friends and one of them proposed us to use his parking in front of his apartment. It looked very nice offer considering the apartment is super centric and very much exposed in big street. 3 hours after we parked, my husband goes to camper and finds a Moroccan thief just entered to the camper. He grabs the guy, calls the police and they go to Police Station to give his statement until 2 am. This happened exactly 24 hours later of our first robbery we got. 
After 3 months being 27 cities safely without any single problem, we have been robbed twice in Barcelona. And the sad part is there is nothing to do with luck. Because Barcelona is famous with its robbery. There are even documentaries about it.  
WHAT ARE THE OPTIONS?
1.You can't park your camper in the center payment parking, non of them allows you to park your camper. There are 3 parking (not camping) areas for campers, one is in the center, others are a bit outside of center. 
*The one in center coast 40 Euros (ridiculous price), contains a few places which are booked fully. So you need reservation to stay there.
*Other two cost 30 Euros but one of them doesn't get any responsible if you are robbed.
2.You can park any free parking and be ready to find a guest in your campervan. 
Barcelona is a fabulous city. I have visited many times and lived here 5 months. But next time I will definitely won't come by camper.
Share it! Sharing is cool!!!
---
Do you want more? Subscribe my newsletter:
[mc4wp_form id="3388"]
---
Related Posts: