Adana Kebab!
A_ Hi! Where are you from?
B_ Turkey, the city called Adana. Have you ever heard?
A_ Not really…
B_ Do you know kebab?
A_ Yes.
B_Adana is the city where kebab originally come from, Adana kebab!
This is typical dialogue I had tens of times. Then the conversation continues about the matter that the kebab known in Europe is not really kebab, it's doner (döner) which in Turkish means "rotary", and it's not kebab.
As a person coming from kebab land, I feel the responsibility to tell what is the real kebab:
What is made the Kebab from?
Here we go:
First of all, have to specify that the meat for kebab has to be male lamb at least one year old! Yes lamb, it's more expensive than beef so it's not always preferred by the shops wishing to maximize the profit, but it is well known that cheap and quality rarely goes together. Lamb is more tasty and in order to find good one, the animal has to be selected very carefully, some specialists check a lot of details to choose the best meet, also in the region of Adana is used a special variety of lamb very tasty but without that typical strong lamb smell.  
How they make it then?
The selected lambs are made in pieces and the meat get cleaned very carefully and chopped very very thin. To have the best kebab all the best part of the meet has to be used, not random low quality ground meet.  In order to give the typical spicy taste to this finely chopped meat it is added just salt and red pepper.
At this point have to create the shape of the Adana kebab: the ground meat is formed around a special skewer that look like a sword, normally for the one person portion it is not so big but sometimes this "sword" can be long some meters!
A quite slow and homogeneous char-coal barbecue cooking is the next step.
Preparing the dish
Once cooked it is the time to prepare the dish: kebab have to be served with pita bread (also called lavaş). Layer a pita bread on a plate, top with the lamb kebabs, grilled tomatoes and peppers.
Vegetables and salads are always present in the Turkish cuisine and specially in the southern region of Adana you can find a huge variety of salads.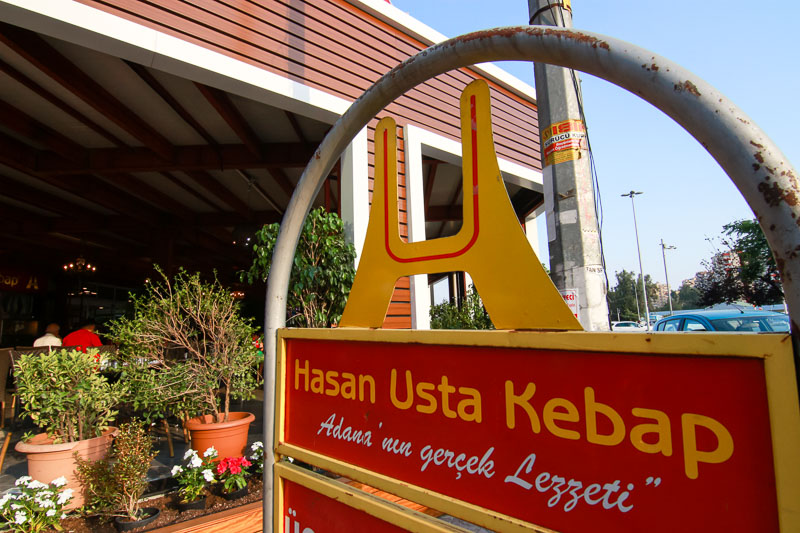 Do you like kebab? What is your experience eating kebab in different places of the world? Leave your comment!
Share it! Sharing is cool!!!
---
Do you want more? Subscribe my newsletter:
[mc4wp_form id="3388"]
---
Related Posts: