For a long time I didn't understand why all tourists were going to Cappadocia. "Okay, there are some interesting natural shapes created by wind and rain, but so what?" I asked myself. Why is it worth being visited by thousands each year? The second time I visited, I understood why.
As a natural wonder all Turkish people know the Cappadocia region has two important towns, Ürgüp and Göreme. The thing we don't know and don't teach is its history which I learnt recently, and now I'm amazed by this region geographically and historically. The region was used by the Hittites and Byzantines for centuries. In the 3rd century BC, they began carving the rocks and making their homes and shelters. There are a lot of ancient churches, graves and underground cities which were made to protect from enemies, and all them were amazing. Now here is what you need to know to have a great time in Cappadocia, I will give you some tips on what you can do and where you can go in three days in this World Heritage Site.
How many days you need in Cappadocia?
My first visit in Cappadocia was one day. But that was not enough time to understand and enjoy anything. If you want to travel to Cappadocia, at least three well-organised days should be enough for you to get a decent view of the region.
You can fly to Kayseri (which many people do) or you can go by bus. It takes 8 hours by bus from Istanbul to Cappadocia, I can assure you, you that Turkish buses are very comfortable, Turkish roads are good, and so is infrastructure.
It is rural area and there is not much transportation you can find so rent a car. That's the best way to access places and see around.
Planning in advance will save you time. My plan was to go to Göreme, Ürgüp, Avanos, Uçhisar, the Derinkuyu Underground City and the Ihlara Valley.
In addition to all the attractions in Göreme, you can have a nice view even if you are in a hotel. Hot air balloons fly in Göreme. And one of the must-see places is the Göreme Open Air Museum. You can see cave churches with magnificent Byzantine era paintings that are more than 1000 years old.
In Cappadocia, days start very early whether you take a hot-air balloon or not, so going to sleep early will gain you energy and you'll enjoy your stay more. Anyways the second day you will be tired and sleep very well.
The Cappadocia Region is famous for its sunrises. The best way to watch a sunrise is in a hot air balloon which has become very popular in Cappadocia during last 30 years. The prices are between 150-250 Euros per person depending on the season, the duration of the tour and the number of the people in the basket.
Even though Göreme is the center of these "fairy chimneys", Zelve was the place that most amazed me. I didn't even know the name of "Zelve", and had never heard of it. It's only 5 minutes away from Göreme, surrounded by bunch of chimneys. If you are alone and it is raining a bit, it makes you feel like you are in a movie or in another world. I really liked it and I recommend you see it.
Derinkuyu Underground City
Derinkuyu is the deepest  and most touristyc underground city among 36 underground cities in Cappadocia.  Its caved by The Hittites  around 3th BC and used by Byzantines and other civilizations. It is spectacular experiences going down narrow stairs 8 floors underground in this ancient city and imagine thousands people lived there ones upon a time. You can see there how people created their home by hand.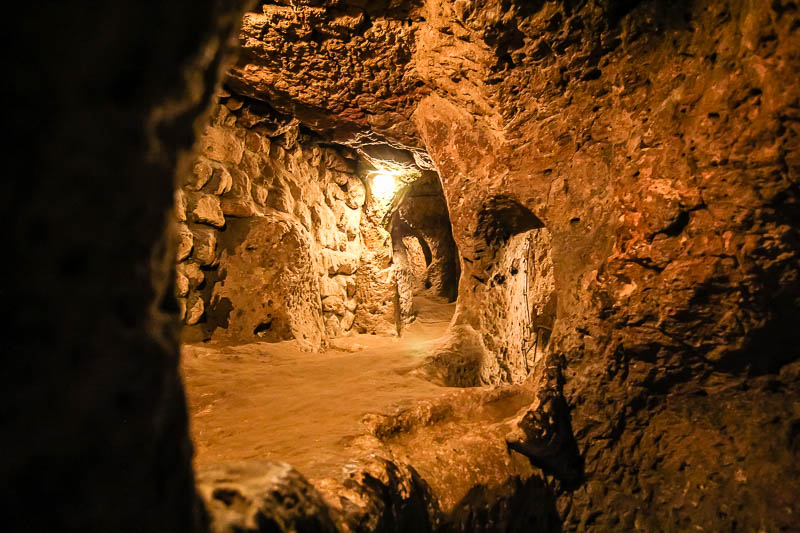 Don't miss to visit Ihlara Valley
I'd seen some pictures of it, but the Ihlara Valley has to be seen to be believed.  It's a 16 km long canyon with high vertical rock walls a green ravine with a small river crossing in the middle. I can assure you will say a lot of "woww" once you see the canyon. Besides to be wonderful itself, the presence of a lot of caves and ancient mysterious churches carved into the rocks creates a very special atmosphere. You have to be ready to climb stairs and to walk some kilometers. Finding a little, authentic open air cafe at the end where you can rest a while and enjoy the nature around you while you are having your tea is pure bliss!
---
Don't miss to check out the photo gallery below to have better idea  😉
Share it! Sharing is cool!!!
---
Do you want more? Subscribe my newsletter:
[mc4wp_form id="3388"]
---
Related Posts: