Why should Malaga be a part of your Spain itinerary?
As it is with most people, my first stop in Spain was Barcelona. I have traveled to Barcelona many times. (It's the city where I met my husband almost by coincidence) I even lived in Barcelona for more than 2 months, but had not seen any other cities in Spain till we undertook a 4000 km camper road trip to Malaga. On this road trip we made our way South from Barcelona, passed through Valencia, and then made our way to Malaga.
Valencia, although beautiful, didn't hold our attention too much, so we headed further South to see Malaga. Both my husband and myself had never been to Malaga before, but everything about the city called to us. Maybe it was like the siren calls of the mermaids?
We knew that Malaga was warm, cheap, Spanish speaking, and potentially had scrumptious food and nice people. So it was a good potential city to live in.
It was soon time to explore the Andalusia region in the South of Spain. So we started with some volunteer work in Alhaurin de la Torre; the fancy town near by Malaga.
VOLUNTEER WORK
We got details of a volunteering opportunity close to Malaga and got in touch with them. It turned out to be a great opportunity for us to see these nearby fancy towns; Alhaurin él Grande, Alhaurin de la Torre, and more.
During the 2 weeks we spent volunteering there with an English family, we met a lot of English people. We hadn't realized till then that the Southern part of Spain, especially the area around Malaga, was occupied by a lot of English, Dutch and German. It's understandable though, rather than freeze in their own country, why not live in the South of Spain?
After 2 weeks of not meeting with any Spanish persons and not having heard a word of Spanish, we completed our volunteering work and went off to see the city of Malaga. We parked our campervan near the beach and stayed there for another 2 weeks. It was very privileged stay camping next to the beach and sleeping by the sea.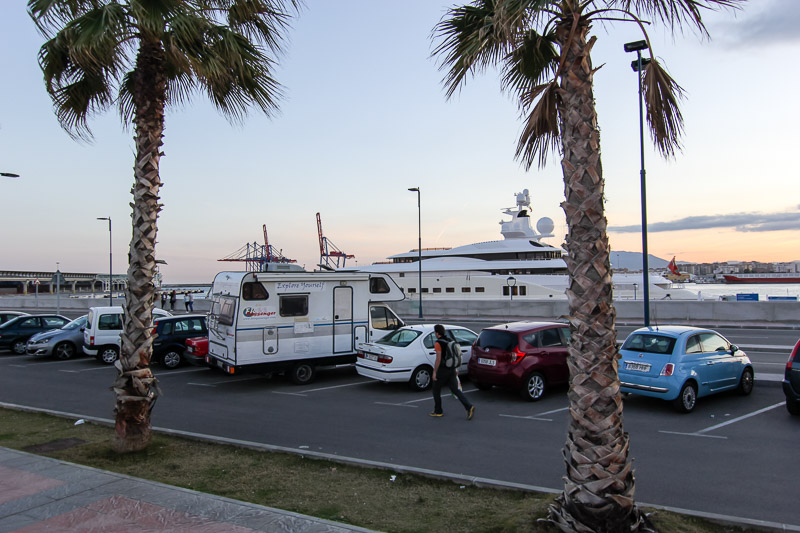 MALAGA CITY
People say there is nothing special in Malaga. Locals say this too. But I think that after having lived in any city for 20 years, you might feel bored. I found Malaga quite interesting!
For starters, you can have a beer and tapas for just 2 Euros in the city center. Since Malaga is an agricultural region, food is cheap and of good quality. This alone can be reason enough to travel to or even live here. You can rent an apartment for around 400-600 Euros in the city center. That's awesome!
Before arriving in Malaga, we were a bit worried about safety, because it's close to Africa and there might be lots of illegal immigrants who could be problematic. But No! It's a super safe city, much safer than any other European city I've been to. And especially better than Barcelona where we are robbed twice!
Even though it was April, the weather was absolutely gorgeous. Some days the beach was full of people. I have to admit; I didn't appreciate that good warm weather during my stay as I was used to it, but now, after staying here in Ireland I yearn to be back there again.
Another attractive point about Malaga is its location. It's so close to a lot of beautiful places. In one hour you could be in Granada, a very beautiful city. If you want to change country, Gibraltar is also an hour away. Cadiz and Sevilla are just two hours away.
And of you want to change continent, Africa is just 2 hours away by boat. Perfect!
The famous Caminito del Rey walk is also less than an hour away.
So tempting…
Did we settle down in Malaga? No. But it's not because we didn't like the city, it was because of economical reasons. As there's still a crisis in Malaga, it's difficult to get a job. So we'll wait till some other time in the future.
Malaga is a small city where you can enjoy more relaxing as opposed to hectic travel. If you don't have too many days off for a vacation but are looking for warm weather, beaches, good food and a cheap place to go; it'll be just perfect for you!
---
Enjoyed this post? Share it!
Share it! Sharing is cool!!!
---
Do you want more? Subscribe my newsletter:
[mc4wp_form id="3388"]
---
Related Posts: