Why Bergamo became so popular?
Bergamo is a medium-sized city that has gained its fame in recent years thanks to cheap Ryanair flights or an excellent position on the map of Europe. However, the place at the foot of the Bergamo Alps has become famous on a global scale for a few weeks and not because of tourism, however, because of the coronavirus epidemic that is taking a bloody toll here.
Moving to Bergamo
I can remember that as I moved to Italy two years ago, on the same day collapsed the bridge in Genoa. It really disquieted me and my family. Now I'm in the core of the pandemic. And my family thousands miles away worry about me, again.
Pandemic Arrives
I recall that a couple of weeks ago all of us was neglecting this danger by making some silly jokes. We describing it as a Chinese flu that can only kill a mosquito, not a human being.
This peril seemed to be so far away from my life and I wanted to ignore this topic as much as possible. But as my work colleague's husband, then the mother in law of my other friend was diagnosed as positive, I realized that it was too late to neglect it anymore and the real catastrophe was about to begin.
Stucking in the old life
This pandemic practically blighted my future plans, for which I have been working since months. I broke up my girlfriend. After that I gave notice to my company to leave at the end of March. Leaving the apartment I sent a lot of boxes of my stuff to home in Poland. I found a new tenant for my apartment. My plan was going a long trip to South America after Poland. I planned everything, booked my tickets. Finally I was going to end my life here in Italy and start a new chapter. 
1 month to go, 3 weeks to go, 2 weeks to go… Coronovirus comes, I can't go anywhere.
After many months of waiting to see my family and friends, the Italian government told us that all airports were closed. No one could leave the country for the sake of national security.
I felt really devastated, because I was told to stay at home without any exact guarantee how long it will take until the things get normal.
Now I'm alone at home, the home I was not supposed to be, working at the job I was not supposed to work, and in the country I was not supposed to be in.
Hysteria
Although the effects of this problem could be comprehensible, no one expected that it would have such an impact on our everyday lives. Even if closed schools, public institutions or workplaces might seem like a big obstacle, the biggest problem for Italians is the social isolation order. Simply the order not to get
close to people, to keep safe contact or even to leave the place of residence.
There are hundreds of tangible examples of this ban. Starting from being separated from other colleagues from offices, to queues in front of supermarkets allowing a limited number of people to enter, through roadside checks to reduce unnecessary car traffic.
Someone might think that by doing the same as me, what means stocking food for months, working from home and not following too many news, one can just isolate himself from all this hysteria? Nothing could be more wrong.
>> Does Coronavirus cause depression?
Considering that we are now living in the permanent dread, we cannot even find our well-deserved tranquility at home. From open windows I can hear so often church clocks that announce passing away someone from the village or just sirens of ambulances that are on their way to save someone's life in this state of emergency. How can I not feel anxiety or fear hearing people are dying sitting alone in foreign country!
Solidarity 
In these difficult moments you can see solidarity for everyone who lives in this country and especially here, where pride from their own place of origin is very strong. There are no divisions.
Last days give us hope that our chances are getting better in this uneven battle against an unknown enemy, but we need to be really patient until we get back control in our lives.
>> 5 Great Ideas To Do At Home While Quarantined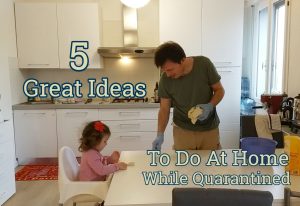 Share it! Sharing is cool!!!
---
Do you want more? Subscribe my newsletter:
[mc4wp_form id="3388"]
---
Related Posts: