What is life about?
Are you working like crazy from 8:00 to 17:00? Have you overwhelmed from routine? From weather? What are we working for? To live better? To live happier?
These travel quotes are meant to inspire you to find your path and explore our lovely planet. If you are not afraid of packing and heading into the unknown, keep your heart open and let the words inspire you.
#1 "Travel makes one modest. You see what a tiny place you occupy in the world." – Gustave Flaubert
#2 "Not until we are lost do we begin to find ourselves." – Henry David Thoreau
#3 "Traveling – it leaves you speechless, then turns you into a storyteller." – Ibn Battuta
#4 "Investment in travel is an investment in yourself." – Matthew Karsten
#5 "Curiosity is the one thing invincible in nature." – Freya Stark
#6 "Once a year, go somewhere you have never been before." – Dalai Lama
#7 "The most effective way to do it, is to do it." – Amelia Earhart
#8 "Man cannot discover new oceans unless he has the courage to lose sight of the shore." – Andre Gide
#9 "A traveller without observation is a bird without wings." – Saadi Shirazi
#10 "The world is a book, and those who do not travel read only one page." – Saint Augustine
#11 "Twenty years from now you will be more disappointed by the things you didn't do than by the ones you did do." – Mark Twain
#12 "A journey is like marriage. The certain way to be wrong is to think you control it." – John Steinbeck
#13 "If you reject the food, ignore the customs, fear the religion and avoid the people, you might better stay at home." – James Michener
#14 "When overseas you learn more about your own country, than you do the place you're visiting." – Clint Borgen
#15 "Life begins at the end of your comfort zone." – Neale Donald Walsch
#16 "I haven't been everywhere, but it's on my list." – Susan Sontag
#17 "Focus on the journey, not the destination. Joy is found not in finishing an activity but in doing it." – Greg Anderson
#18  "Don't tell me how educated you are, tell me how much you have travelled." – Prophet Mohammed
#19 "A ship in harbour is safe, but that is not what ships are built for." – John A. Shedd
#20  "We travel not to escape life, but for life not to escape us." – Anonymous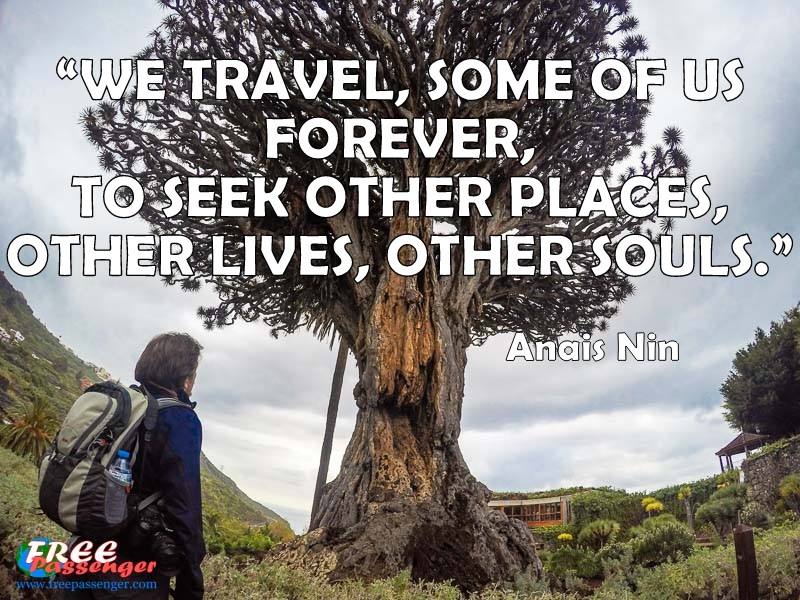 #21 "We travel, some of us forever, to seek other places, other lives, other souls." – Anais Nin
#22 "Travel is fatal to prejudice, bigotry, and narrow-mindedness." – Mark Twain
#23 "A journey is best measured in friends, rather than miles." – Tim Cahill
#24 "Once the travel bug bites there is no known antidote, and I know that I shall be happily infected until the end of my life." – Michael Palin
#25 "I am not the same, having seen the moon shine on the other side of the world." – Mary Anne Radmacher
---
Have any cool travel quotes I missed? Which is your favorite? Drop me a message in the comments below!
Share it! Sharing is cool!!!
---
Do you want more? Subscribe my newsletter:
[mc4wp_form id="3388"]
---
Related Posts: