This's the third year, I attend to Venice Carnival. Approximately 3 million visitors come to Venice every year for the Carnival. People has a lot of questions such as when it's held, when the carnival started, what's the meaning of the masks?
Well, here are the all answers you'd like to know about Venice Carnival!
When is Venice Carnival?
Carnival of Venice is an annual festival. The Carnival ends with the Christian celebration of Lent, forty days before Easter so every year the calender may vary.
In 2018, it runs from January 27 to February 13. You can reach to the official program here.
When did the Carnival start?
During the 40 days of Lent, parties were off-limits and so was eating foods like meat, sugar, and fats. As a result, people would try to get rid of all of their rich food and drink before Lent. Hence… Carnival. In fact, the word Carnevale may come from the Latin words carne and vale, meaning "farewell to meat"!
According to tradition, Venice's Carnival got its start in 1162, when townspeople celebrated a victory over the Patriarch of Aquileia. In the honour of this victory, the people started to dance and gather in San Marco Square. This festival started on that period and became official in the Renaissance.
The festival was outlawed entirely in 1797 and the use of masks became strictly forbidden. However, After a long absence, the Carnival returned in 1979.
Why Masks?
What makes Venice Carnival unique rather than other carnivals, is its mask. 
The motive of the mask wearing in Venice is rigid class hierarchies in European history. One scholar argues that covering the face in public was a uniquely Venetian response to one of the most rigid class hierarchies. During Carnival, people could dress as they liked, instead of according to the rules that were set down in law for their profession and social class.
Masks have meaning?
Different types of mask are worn in the Venice Carnival. People with different occupations wore different masks.
Bauta
This traditionally mask is designed to comfortably cover the entire face. There's no mouth but the mask's beak-like chin is designed to enable the wearer to talk, eat, and drink without having to remove it. The bauta was often accompanied by a red or black cape and a black hat.
Moretta
The Moretta was a small strapless black velvet oval mask with wide eyeholes and no lips or mouth worn by patrician women. It derived from the mask invented in France in the sixteenth century, but differed in not having a hole to speak through.
Volto (Larva)
The volto  or larva  is the iconic modern Venetian mask.  It is often made of stark white porcelain or thick plastic, though also frequently gilded and decorated, and is commonly worn with a tricorn and cloak. The "volto" is also quite heavier than a typical mask and has a much tighter fit. Many people who experience claustrophobia do not wear the "volto" at the Carnival.
Colombina
When we think about a mask, the first image comes to our mind is probably Colombina Mask. The Colombina is a half-mask, only covering the wearer's eyes, nose, and upper cheeks. It is often decorated with gold, silver, crystals, and feathers. One of the first actresses in the Commedia dell'arte felt her face was much to beautiful to cover completely, and so instead wore a half-mask especially designed for her. The mask type quickly became popular.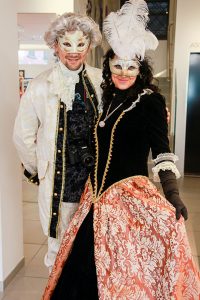 Medico Della Peste (The Plague Doctor)
The Medico della peste, with its long beak, is one of the most bizarre and recognizable of the Venetian masks.  It did not start out as carnival mask at all but as a method of preventing the spread of disease. French physician Charles de Lorme who adopted the mask while treating plague victims.
Buying the Mask
Originally masks was made by hand using the material of paper. Nowadays, it's possible to find artisanal masks made by leather, paper or porcelain. However most of the shops sell cheap plastic masks for tourists. If you want to buy a quality one, pay attention!
Do you want to see the Best Carnival Mask & Costumes? So click here!
---
Do you want to see more about atmosphere in Venice in winter time? Here it is.
Happy Carnival!
---
Read it later! PIN IT!
Share it! Sharing is cool!!!
---
Do you want more? Subscribe my newsletter:
[mc4wp_form id="3388"]
---
Related Posts: