Hitchhiking
I had to find the way to go to Barcelona from the mountain. So the master of hitchhiking Gautier gave me lesson with a map showing in which places I could hitchhike, my route was Mirepoix, Carcassonne, Perpignan and finally Barcelona. Next day very early morning Gautier dropped me in Foix and I started my journey.
In a minute a car stopped, a nice old man who was going to the job took me, he knew some English and he had been in Turkey once so we had good conversation and he went even further than his work to drop me off. Then again waiting a few minutes somebody took me, I assume he asked me if I knew French, and I said "Je ne parle pas Français" (of course not in a correct way) means "I don't speak French", so we went all the route silent… It was really weird feeling. You are travelling with somebody side by side but you are unable to communicate. Anyway, at the end I arrived the last stop: Perpignan.
Disappointment
In Perpignan the road was forked, one side going to France and the other to Barcelona and I waited in front of the toll booth. 5 minutes, 10 minutes, 30 minutes… it was weird, nobody stopped. After getting cars in a few minutes, it was incredible nobody stops, moreover it was very crowded passing cars. There were a few trucks parked and I was standing in front of one of them, I asked to the driver looking him up "am I waiting wrong place, what is wrong with these people, why they don't stop?"… He said he didn't know. He was a Romanian truck driver who is going to Barcelona. I asked him when he leaves, he answered in one and half hours so I said "fine, if nobody stops until you leave, I am coming with you!" and nobody stopped. I climbed up his truck breaking the hitchhiking rule "no trucks", but considering I made the choice to go with him and we spent more than 2 hours together waiting there, I couldn't see any danger. However, during all the travel I was very awake and sometimes fussy watching road and asking disturbing questions like "why we went here? why you took this road?". All the way we listened Romanian music, then he stopped and said, trucks can not go to city center, there is where I was supposed to get off.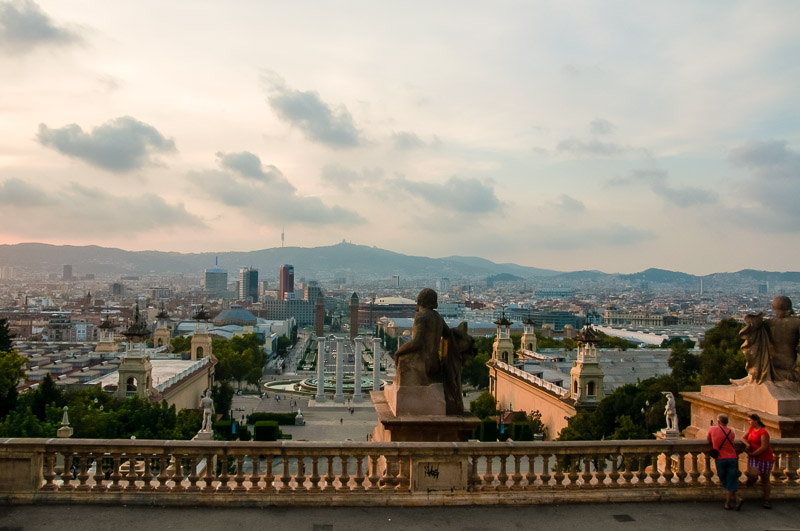 Reaching the Target
It was near the car parking of an hotel. I walked towards to the hotel to find somebody and ask directions. A group of people came out and I asked them how can I go to center. One of them was going to the center and he offered to take me there. He was a Bulgarian who lives some kilometers away from Turkey so we had some conversation about Turkey. He was going his office and I needed to access internet, so I went with him to the office to use the computer, quickly I checked my messages and there was a new one, it was  from Kıvanç. He wrote his telephone number so I called him and wrote down his address. I took metro and arrived Marina station. Kıvanç came to take me and finally I was in Barcelona with a place to stay. I made it  🙂  At home there was other guest also, a girl from Denmark, and different looking obviously European blond flatmate. Kıvanç went out with the girl and he told me that I can go out with his flatmate, there was a famous festival; Gracia.
Happy Ending
I went out with this weird flatmate called Simone from Italy. I asked his age, he said "44", "Wowww you don't look like", and he said, "ahh sorry 34." He was responding me late and sometimes repeating what I said so I thought he wasn't normal. Then I realized just he was not able to speak English. That's why he was thinking a lot and repeating me what I said to understand. So during my travel, I learnt one more very important thing that NOT all Europeans speak English. It was significant illumination for me.
This is how I met with my husband. Exactly two and half years later I married with this weird Italian.
PS. I have never made the same style of travel again. So this 30 days were my first and last random travel.  At the same time it was the most experienced and the most fascinating one.
---
Share it! Sharing is cool!!!
---
Do you want more? Subscribe my newsletter:
[mc4wp_form id="3388"]
---
Related Posts: