I've lots of friends scare travelling. Some of them say they don't speak English which is life saver language when you travel, some says travelling is very expensive. For English I can't say anything but yes I can say you don't need to spend fortune for travelling.
I'm sure if you are a traveler, you already know what I'm going to talk about. But let's talk for the people who are seeking for information for budget travel.
Nowadays you can get all the information through internet. If you know certain websites you can make your travel on a limited budget or even sometimes free.
Let's check them out:
Couchsurfing is my turning point website that must be known and used by all travelers. It's a huge network to host travelers in all over the world. Don't worry about safety, looking at filled out profiles and references you can choose your host or guest without any problem. Also make sure your profile is full filed. This is the only way the get information between you and your potential host. Couchsurfing doesn't only provide free couch, but also you can find your travel buddy, or the activities in the place you're travelling to. That's perfect way to meet people as well. Like me. Besides I've got tons of friends, I met my husband as well through Couchsurfing 🙂 I'm Couchsurfer more than 6 years, and it's one of my favorite travel website.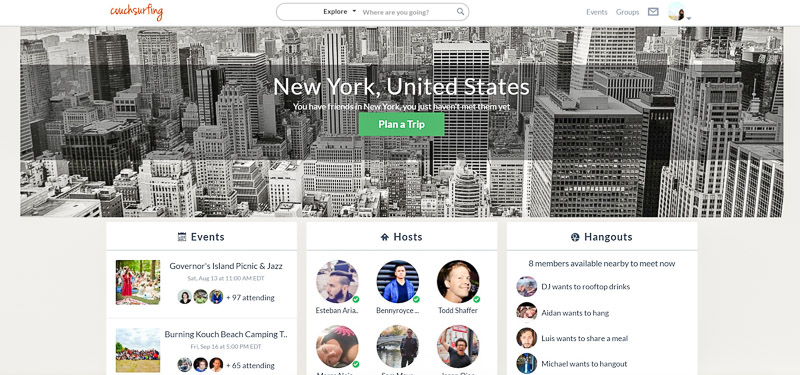 Airbnb is recently growing website making mad all the hotels and hostels, almost make the close them all. The community renting their rooms or apartments in wide range of price. Searching your accommodation through map makes the website use easily and comfortably. You search your destination point, choose an accommodation you like and contact with the owner.
You can even use Airbnb to rent your spare room or unused apartment. There are people making business and earn a lot with it.
You arranged the accommodation but how you're going to find the ticket?
I always use Skyscanner. Because once you search on Skyscanner, it searches in 24 different flight companies, compares deals and gives you the best result. This is huge network and with this way you don't need to do search anywhere else.
Car sharing website is served in 22 countries. If you remember when I got without money in Paris this website saved my life. At that time the name was different in each country, after it became all blablacar. For instance, you are going to Toulouse from Paris, you search the people going same direction, you check the profiles, you choose one of them and share the gasoline. Blablacar is win-win-win initiative as sharing the gasoline driver wins, paying less and making friends passenger wins, and environment wins.
My latest favorite site is Workaway. The most popular and used volunteer website. You can find volunteer work such as baby sitting, farming, teaching language in exchange of accommodation and food all over the world. The work could be 2 weeks or 3 months. Standart rate is 5 hours a day for 5 days a week. Learning local culture and having experience free by helping people will make your trip unforgetable.
As you can see, there are a lot of way to travel in budget and meet locals and make friends. Try out these services and let me know how your experiences were. 
Soo where is your next destination?
Share it! Sharing is cool!!!
---
Do you want more? Subscribe my newsletter:
[mc4wp_form id="3388"]
---
Related Posts: